Please find below a list of the current Holiday Homes we currently have for Sale.
We are proud to support Salop Leisure, The premier supplier of New & Used Holiday Homes into Mid Wales.
Stock is changing rapidly, so please do not hesitate to call us with your requrements and we will try our best to find you your perfect Holiday Home.
Please do not hesitate to contact us for any information on the Holiday Homes in stock .
2010 Willerby Vogue Connoisseur
42ft x 13ft, 2 Bedroom
Stock No - 1
In Stock / Sales Yard
Discover the true meaning of luxury with the Vogue Connoisseur. Designed for those with discerning tastes and a keen eye for detail, this flagship model is the epitome of comfort, quality and style.
Both the open-plan and secluded lounge models benefit from a majestic lounge area that is extremely spacious and attractively decorated using rich cream, caramel and champagne tones. The fully equipped kitchen features a myriad of integrated appliances and is perfectly finished with laminate flooring and basalt slate effect work surfaces. At the heart of the master bedroom is the striking bed dressed beautifully in sumptuous fabrics and scatter cushions creating the perfect sanctuary. The two bedroom versions feature a full-sized bath as well as a luxury en-suite shower room.
Boasting contemporary styling and a wide range of stunning features, the Vogue Connoisseur is beyond compare; quite simply it is the ultimate in holiday home design.
A trademark of the two bedroom model, the angled kingsize bed dressed with scatter cushion and bed runners characterises the opulent feel of the Vogue Connoisseur.
Indulge in some serious pampering by using the full-sized bath or en-suite shower room in the two bedroom model.
Was £37,995 - NOW £ 36,000


39ft x 12ft 6 inches, 2 Bedroom
Stock No - 2
In Stock / Sales Yard
This very large Holiday Home is made by one of the Premier Caravan Manufacturers. The Lucerne is one of the top of the range models and would retail in excess of £ 50,000 + when new.
This Holiday Home is in immaculate condition for its age and is what you'd expect from a Top of the Range model.
This Holiday Home can be sited and connected on a plot of your choice on our park.
£ 26,000 Reduced NOW £ 22,500 Please ask we have 2 available.....
38ft x 12ft 6 inches, 2 Bedroom
Stock No - 3
In Stock / 1 Woodpecker Way
This Modern style holiday home has loose furniture with 2 two seat sofa's in brown leather, wooden blinds and chrome detailing to the open plan kitchen. This caravan is larger than standard and this space shows in the bedrooms.
This holiday home is a "Complete Package" being situated on an end plot and is complimented by a large wrap round balcony.
£ 22,500


39ft x 13ft, 2 Bedroom
Stock No - 4
In Stock / Sales Yard
The Ambleside never fails to truly impress. Its refined and elegant interior is the perfect complement to the natural beauty found when you gaze through the windows. Beautiful fabrics, comfortable furnishings and quality finishing touches can be found wherever you look in this spacious holiday home.
The Amleside has a fantastic layout with an amazing main bedroom, with a walk in wardrobe and an en-suite shower-room behind the bed.
This pre-owned holiday home is in immaculate condition.
£ 33,500
38ft x 12ft 6 inches, 2 Bedroom
Stock No - 5
In Stock / Sales Yard
This is the home to create memories in; you can imagine it being full of family and friends, laughter and love. No wonder the Granada is one of our best sellers.
Plenty of choice
A choice of upholstery means you can have the family friendly Riverdale or if cream is your thing then consider Harvest - both go fabulously with the curtains and cushions.
£ 48,525 Now Reduced £2,000 OFF - £ 46,525


36ft x 12ft, 2 Bedroom
Stock No - 6
In Stock / Sales Yard
The stylish and well-appointed Chorus is bright and modern, with a sense of contemporary flair. The big deep L-shaped sofa is particularly comfortable and a perfect choice when it comes to relaxing, making this holiday home an exceptionally beautiful living space. The full width master suite carries the indulgent feeling through with beautiful upholstered headboards, dressing table and room to stretch out making it the perfect holiday home for both relaxing and entertaining.
£ 33,095 Now Reduced £2,000 OFF - £ 31,095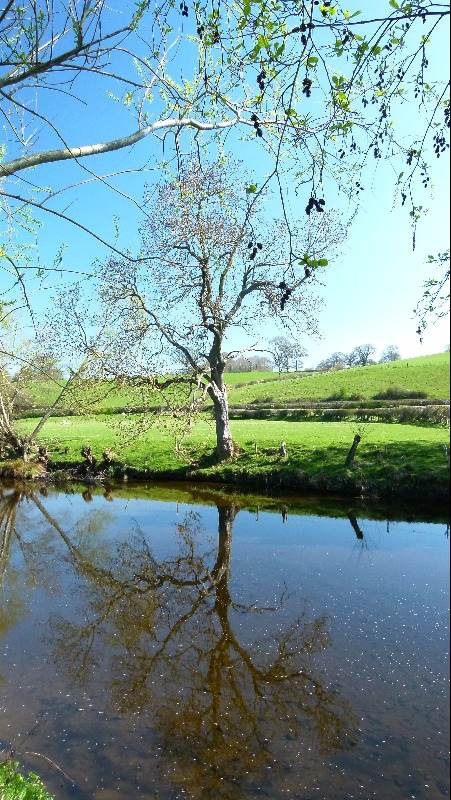 Riverside Pitch Available
Stock No - 10
Plot 5 Kingfisher View
Please enquire about the availability of this pitch.
This pitch is available for a new caravan sale only in excess of £40,000
The site fees on this pitch are the same as every other pitch on the park.
We save any available riverside pitch for those looking to invest a little more money with us by purchasing a new up market caravan.
£ 40,000 +